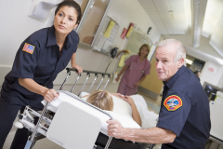 Holding the Negligent Accountable for Your Injuries
A leisurely drive. A walk down the street. A visit to the doctor. A stay in a nursing home. While seemingly safe, each of these actions can result in serious, life-threatening injuries. At Sarisohn Law Partners LLP on Long Island, we hold negligent parties accountable and seek just compensation for our clients through personal injury claims.
While you focus on recovery, we manage all aspects of your personal injury case. For help from an experienced legal team, contact us at (631) 543-7667.
Negligence Resulting in Truck and Car Accidents
At Sarisohn Law Partners, our practice of personal injury covers a variety of diverse areas. Most common are accidents that involve a car or truck. An impaired or inattentive automobile driver can present danger to others on the road. Similarly, a truck driver who is sleep deprived or carrying too much weight in the trailer literally represents an accident waiting to happen.
Holding Property Owners Accountable for Slip and Fall and Dog Bite Injuries
Our personal injury attorneys also represent clients injured due to a property owner's negligence. We represent Nassau County and Suffolk County residents who suffer from physical and emotional injuries because someone ignored a potential danger, such as a dog bite or a slippery surface.
Unexpected Dangers from Medical Professionals
A visit to a medical clinic should be an important step in getting better. Placing your elderly loved one in the care of nursing home staff is a bond of trust. You assume that medical professionals at all levels maintain high standards of quality in their care. The last thing you expect is medical malpractice or the abuse or neglect of your family member. Bed sores, pressure sores, decubitus ulcers are often a sign of neglect on the part of nursing home staff.
Contact Us
For more information or to schedule an appointment with an experienced personal injury lawyer, please contact us.