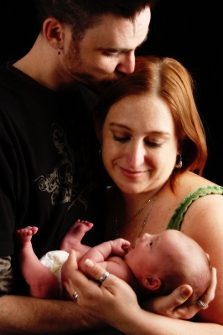 Turning Adoption Dreams Into Reality
Adopting a child will be one of the most exciting and rewarding times of your life. It is a legal process like non other. To Steven L. Sarisohn, who directs the firm's adoption practice, it is a passion-so much so that his office is filled with photos from parents and children who found each other and formed loving, joyful homes. We cannot be with you when you make the decision to adopt, but we promise to be with you throughout the remainder of your journey and as your family's lawyer for many years to come.
Taking Those First Steps
After making the decision to adopt, the next step will be for you to fulfill New York's requirement that you become pre-certified as a Qualified Adoptive Parent. This will include undergoing a home study and obtaining criminal and other clearances. We will help you gather the information necessary for pre-certification, get ready for your home study and then prepare and file the Adoption Petition with the Court. In Suffolk County, the rules require that we appear together before a Family Court Judge as part of the approval process. At Sarisohn Law Partners on Long Island, we have assisted traditional and same sex couples as well as single individuals in becoming certified as Qualified Adoptive Parents in Suffolk and Nassau Counties, the boroughs of Queens, Brooklyn, Staten Island and Manhattan as well as in Westchester, Orange and Duchess Counties.
Educating You about the Adoption Process
At Sarisohn Law Partners, we recognize that adoption laws can be complex. With that in mind, we explain the process and debunk myths. Each state has different rules regarding how and when birth mothers and birth fathers consent to an adoption. Patiently, we will explain the adoption laws of New York and how, when necessary, they intertwine with those of other states. We will tell you about the Interstate Compact on the Placement of Children (ICPC) and Indian Child Welfare Act (ICWA) and what affect, if any, these rules will have on you and your efforts to adopt. No discussion about the adoption process would be complete without mentioning the payment of a birth mother's expenses. While adoptive parents know that it is illegal to buy or sell a baby, few are aware that New York and other states do permit adoptive parents to pay certain expenses related to the birth mother's pregnancy. We will educate you as to the intricacy of the rules and how they apply to your situation. We encourage your questions. Always.
OFFERING SOLUTIONS MAKING....ADOPTIONS AFFORDABLE
Don't let rumors, myths or unsubstantiated stories about the high cost of adoption dissuade you from your dream. Put your financial fears to rest as you await the sleepless nights of parenthood. At Sarisohn Law Partners, together, we will talk about your adoption goal and the expenses you may reasonably expect to pay so that you can realize it. An adoption may be less costly than you think.
Putting Our Experience to Work For You
Our extensive experience prosecuting and representing criminal defendants allows us to recognize and avoid the potential pitfalls of the adoption process including unscrupulous practices that sometimes occur. We have represented both adoptive parents and birth parents giving us keen insight into how the other side behaves.
We recognize that babies are born at all hours of the day and night and on weekends and holidays. We are available whenever needed. Contact us at (631) 543-7667.