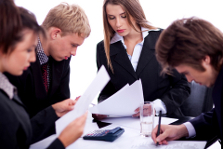 Handling the Legal Issues So You Can Successfully Run Your Business
Your long-awaited dream of starting a business has finally been realized. Don't jeopardize it by overlooking the many potential legal problems that an experienced business law attorney can help you avoid. At Sarisohn Law Partners LLP on Long Island, we help area businesses to set up their operations and are available to serve as de facto in-house counsel.
Regardless of your business's size, we can help guide you through the legal complexities of formation, succession planning and real estate issues. Contact us at (631) 543-7667.
Experienced Business Law Attorneys Preparing You for "Day One"
At Sarisohn Law Partners, we recognize the importance of the establishing a business entity that best suits your circumstances. Whether you need an LLC, partnership or corporation, we will create and file the necessary formation documents. We are also experienced in preparing corporate minutes and buy-sell agreements.
In addition, our business law attorneys can create for you employment, contractor, partnership and stockholder agreements. We also attend to insurance issues and business succession planning. That preparation is vital before you open your doors.
Ongoing Representation from Your Business Law Team
Even in the early stages of your company, you can have a legal team representing you and protecting your business interests. We also provide a high level of advocacy if an employee accuses you of discrimination or you face commercial litigation with a competitor.
Contact Us
For more information or to schedule an appointment with an experienced lawyer regarding a business law matter that involves breach of contract, please contact us.