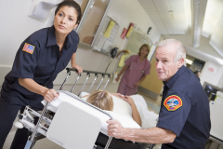 Medical malpractice is the failure of a doctor or other health professional to provide reasonable care in medically treating his or her patient. Failure to use reasonable care arises from a doctor failing to do something that a reasonably careful doctor would have done for his patient, or, on the other hand, doing something that a reasonably careful doctor would not have done.
A bad result from a medical procedure is not necessarily malpractice. Medicine is an imprecise field and quite often, a bad result may turn out to be an acceptable risk of the medical procedure rather than medical malpractice. Contrary to what most people believe, a doctor is not responsible for what turns out in hindsight to be an error in medical judgment if the doctor made that judgment at the time after careful evaluation of all the relevant facts and if it was a medical judgment that a reasonably careful doctor could have made under the same circumstances.
In order to prove a case for medical malpractice, it must be shown that the doctor failed to use reasonable care in the medical treatment of his or her patient or departed from accepted medical practice in providing such medical treatment and that the failure or departure was a substantial factor in a patient suffering a serious injury.
In New York, as a general rule, you have 2 ½ years to sue a doctor, hospital or health provider from the time of the alleged malpractice. However, important exceptions apply, so if you are even considering a malpractice claim, you should contact our office immediately. Our attorneys will carefully evaluate the facts and circumstances of your case and, if appropriate, file a lawsuit on your behalf.