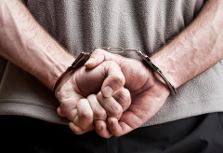 Former Assistant District Attorneys Ready to Fight For You
When it comes to criminal matters, whether it be felonies, misdemeanors or DWI's, you never want to take short cuts of any kind...especially in choosing a lawyer to defend you. Your freedom and reputation are at stake. You need an experienced criminal defense team at your side.
Clients have relied on Sarisohn Law Partners of Long Island's thorough approach to criminal representation for over 5 decades. We assume nothing, study everything and bring our investigative skills and vast litigation experience to each client's case.
Protect your rights by securing legal counsel who will aggressively defend you against felony or misdemeanor criminal charges. Contact a criminal defense attorney today at (631) 543-7667.
Benefit From the Experience of Former Prosecutors and a Judge
Founding partner and former District Court Judge Floyd Sarisohn has had a long and distinguished career in the area of criminal law. Steven L. Sarisohn began his career as an Assistant District Attorney in Suffolk County prosecuting 50-70 cases every day. Our criminal defense team has insight and experience as to the inner workings of the opposing side. Knowing how the prosecution prepares and litigates cases provides you with a key advantage.
Advising You Honestly and Candidly
When you meet with an attorney at our firm, we will not simply tell you what you want to hear. You want a law firm that is candid about the likely outcome of your case. If your participation in counseling or drug or alcohol treatment services will help you in court, we won't hesitate to tell you that either.
Effective Criminal Defense Attorneys Advocating for You
We represent clients in the District, Village, Town, County and Superior Courts of Nassau and Suffolk County. You can call us 24 hours a day. We are accessible.
Now that you know where and when we are available to help you, learn the specifics about HOW we can help you at each stage of your case.
Contact Us
For more information or to schedule an appointment with an experienced criminal defense lawyer, please contact us.