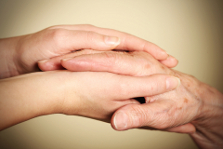 Chances are that when you leave your child for the evening with a new babysitter, you provide instructions to follow, ranging from what snacks to eat (and where they are located) to what favorite book to read during the bedtime routine. Probably sitting on the kitchen counter are directions about who to call in case of an emergency.
Think for a moment. You are the principal caregiver throughout your child's entire life. You have never stopped learning about your very special child. You know everything, from his favorite food to his health insurance provider. Think again. What would you want your child's new caregiver to know if anything should happen to you? What information and what instructions would you give?
You may have a picture in your mind of what you would like your child's life to look like after your death. Your child's next caregiver, however, may not have the opportunity to gain the same insight, experience, and knowledge as you do. A Letter of Intent provides critical family history and instructions to future caregivers. Although not legally binding, the Letter of Intent supplements a Will or Trust to communicate family insights about the unique personality, needs, likes, and dislikes of a special needs family member. The letter prompts you to gather vital information about your child and pass it along to those who need to know. If you have entrusted someone to care for your child for when you are gone, it is important that you can guide them with the knowledge and experience that you have been acquiring throughout your child's entire lifetime.
While you do not need a lawyer to complete a Letter of Intent, we have developed a format to get your started.
Download our "Letter of Intent" template here.
Writing this letter will be a difficult and emotional process for you, but it is a crucial step to ensure that your child's needs are truly met. Once you complete this letter, date, and sign it. Consider it to be a work in progress. Review and update the letter annually on your child's birthday so that it remains current.
What better gift can you give to the one you love so very much?
If you would like further information about protecting your special needs child, please contact Floyd Sarisohn.