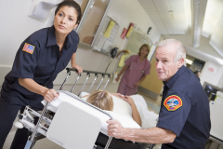 An accident can happen to anyone... even the most responsible driver. Although you can't plan when an accident will happen, it is important to know what to do if you are involved in an accident.
YOUR INSURANCE COMPANY: You must notify your insurance company of the accident as soon as possible.
What We Can Do For You
Most insurance companies will send you forms or accident reports to complete. These forms will become part of a permanent record on your accident. We will review the facts of your accident with you and help you complete the documents. At Sarisohn Law Partners, we deal with insurance companies all the time. You can rely on us to protect you from the hardball and often high pressure tactics of insurance carriers that will attempt to have you sign waivers or releases when it is not in your best interest to do so.
Types of Insurance Coverage
New York has different types of insurance to provide you with protection when you have been injured in an auto accident. Injured persons generally become involved with No-Fault and Liability Insurance following an automobile accident. Each provides coverage for different aspects of an injured person's claim.
No-Fault
New York is a No-Fault state, but that doesn't mean no one is at fault for the accident. It simply means that fault is not considered for the payment of certain benefits. There are three categories of standard No-Fault benefits: 1. Medical bills (hospitals, doctors, prescriptions, etc.); 2. Lost wages (80% of lost earnings up to $2,000.00 a month); 3. Incidental or other expenses ($25.00 per day for traveling to doctors and other costs incurred as a result of your injury.) No-Fault benefits will generally be paid by the insurance carrier for the vehicle in which you are riding (or struck by as a pedestrian) at the time of accident.
What We Can Do For You
We will coordinate with your health care provider to assure that their billing is properly and timely submitted according to No-Fault rules and regulations. We will protect you from becoming responsible for medical bills that are the responsibility of the insurance carrier. If applicable, we will secure the documentation necessary to make the insurance company cover your lost earnings.
Liability
Liability insurance applies when injured people seek to recover money damages for their injury. Here, fault for causing the accident is a very important issue because very often the compensation to an injured person comes from the liability insurance held by the responsible party. The Insurance Law of New York limits the rights of people to make claims to those who have sustained a "serious injury".
What We Can Do For You
There are many different kinds of injuries which fall into the category of "serious injury". When you consult with Sarisohn Law Partners, we will examine the liability of the person who has caused your injury. Immediately and thoroughly, we will conduct an investigation into the incident. We will gather and then review police reports, photographs of the scene and involved vehicles, witness statements and weather reports. We have access to experts who, if necessary, will evaluate the more technical parts of your case.
Supplemental Uninsured Motorist Coverage
Supplemental Uninsured Motorist Coverage: All injured persons should be aware of supplemental coverage that is available through their own auto policy. If you are seriously injured by an automobile with no insurance (or with insufficient coverage), your own policy can provide compensation through the Uninsured Motorist endorsement. Since this type of coverage is for your direct benefit, all automobile owners should carefully review these provisions of their policy.
What We Can Do For You
Insurance policies can be confusing to those who don't review them on a regular basis. We will patiently explain your policy to you and provide assistance in obtaining compensation.
If You Have Been Injured in a Car Accident
TO SUE: In New York State, an automobile accident victim retains the right to sue a negligent driver or vehicle owner:
For medical expenses and economic losses exceeding $50,000.00
For pain and suffering if the accident causes disfigurement or other serious injury
If the accident resulted in death
What We Can Do For You
IF YOU ARE SUED: If you are served with legal papers following an auto accident, immediately contact Sarisohn Law Partners and your insurance company. DO NOT PAY OR MAKE ANY PROMISE TO PAY ANYONE INVOLVED IN THE ACCIDENT AND DO NOT DISCUSS THE ACCIDENT WITH THE PERSON(S) suing you or their representative; refer all inquiries to us.
What We Can Do For You
At Sarisohn Law Partners, we bring more than 50 years of experience with us when we investigate and evaluate your injury. We will meet with you at home or in the hospital, if necessary, to explain your rights and determine how to best protect your interests. We will make sure that all legal papers are filed and that the many deadlines you must meet are met. We will remove the paperwork burden from you so that you can focus on recovering from your injuries.
When you have the legal team of Sarisohn Law Partners working for you, you'll have aggressive, effective and compassionate attorneys with you every step of the way.
For answers to your Auto Insurance and Accident Questions,
Call us at (631) 543-7667
WE CAN HELP.