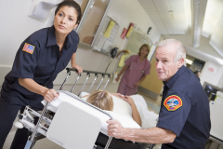 The owner and/or a tenant of a property is responsible for keeping it in a reasonably safe condition. When injuries arise because of a fall on someone's property, the owner/tenant may be liable for your injuries if he or she was negligent in the maintenance of either the inside or outside portion of it.
Falls Outside
On outside areas of the property, the owner/tenant must properly maintain stairways, walkways, parking lots, driveways and other areas open to the public. This includes making sure that the areas are well lighted and clear of ice, snow, pot holes or uneven surfaces that may cause someone to trip.
Falls Inside
For inside areas, the owner/tenant has the duty to keep the premises free of spills or debris that could present a slipping hazard. They must also make sure that the stairs are constructed with evenly spaced treads, have proper handrails and be adequately illuminated. If the owner/tenant did not keep the premises in a reasonably safe condition, they can be legally obligated for your medical expenses, lost earnings, pain and suffering and perhaps other forms of damage you have sustained.
What We Can Do For You
Complex rules govern the many different types of fall injuries and there are important exceptions. For example, if you have fallen and snow or ice is involved, the law generally will not impose liability on the owner/tenant for problems arising while the storm was still underway. The owner is given a reasonable opportunity to correct the condition after the weather event causing the problem has passed. At Sarisohn Law Partners, we will thoroughly investigate the circumstances regarding your fall and how the law applies to your situation. We will gather and review photographs of the scene, witness statements and weather reports. Experts are part of our team and are readily available to help evaluate your injury and explain its' causes.