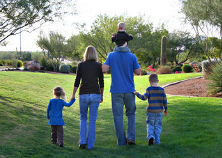 Signing a separation agreement enables a couple to dissolve their marriage and avoid the expense, inconvenience and aggravation that often accompanies litigating their differences in court. An agreement is created that deals with all of the financial aspects of a dissolution of marriage as well as the issues of custody and visitation. When the couple agrees to all the terms, they sign an agreement and are then free to go about living their separate lives. After the passage of at least one year, either person may then file for a "no fault" divorce based on having lived separate and apart for at least one year.
GROUNDS FOR DIVORCE In New York, a divorce may be achieved only on one of the following grounds: adultery, cruel and inhuman treatment, abandonment (either actual abandonment or constructive abandonment). There is only one "no fault" ground for divorce in New York: living separate and apart for one or more years pursuant to a Valid Separation Agreement.
What We Can Do For You
If you have reached the decision to end your marriage, come talk to us. We will listen to your concerns. We will provide you guidance on the options available to you. If a separation agreement is the right choice for you, we will explain to you what such an agreement typically includes and discuss the issues which are important to you. We understand the upheaval going on in your life and will guide you as you try to balance your legal and financial needs with your emotional ones.
We know that no two couples are alike and recognize that we must develop a strategy which is right for you before reaching any agreement with your spouse or life partner.
If your spouse or life partner has an attorney, we will negotiate on your behalf. We will work diligently and creatively to find common ground with your spouse and the opposing attorney, but we will never compromise your rights. If a divorce proceeding is commenced against you or it is necessary for you to commence an action for divorce, the matrimonial attorneys at Sarisohn Law Partners are trial tested and not hesitant to stand up and fight for you in court. However, we will make every reasonable effort to achieve a settlement, so that a trial will not be necessary. We are dedicated to the protection of our clients, both in the negotiation of a settlement or the trial of a case.
The Net Worth Statement
In order to proceed with the resolution of the financial issues in a separation or a divorce, each person first must prepare a Statement of Net Worth which is then exchanged with the opposing counsel. Net Worth Statements are sworn documents. Each person, under the penalty of perjury, must swear to the truthfulness of the information provided. A Net Worth Statement is intended to provide a true picture of the family's expenses; liabilities, assets and income of both parties and the educational background and employability of the separating couple. When both sides have Net Worth Statements, they have a starting point from which negotiations can begin.
What We Can Do For You
The Net Worth Statement is a valuable tool for negotiation or litigation. It forms the basis from which all financial decisions regarding your separation or divorce will be made. The Net Worth Statement is a compilation of all your assets, income and expenses and debts. Our team of experienced attorneys and paralegals will review your documents and lead you through the process of preparing your statement. Your Net Worth Statement is a reflection of your credibility. That is why we believe in carefully preparing your statement so that it will stand up to strict scrutiny and survive challenges by your spouse's attorney. We will make sure that your net worth statement is in proper form and that it strategically positions you throughout the course of your case to give you the greatest chance of success given your financial circumstances.
At Sarisohn Law Partners, we also review, examine, and when necessary, challenge the Net Worth Statement prepared by your spouse. Having conducted all phases of matrimonial litigation, including examinations before trial as well as trials themselves, we are familiar with and have insight into the issues which may arise during litigation. We will relentlessly pursue the spouse who inflates his/her expenses or attempts to minimize his/her actual income. We will exploit the errors and inconsistencies of your spouse's position whenever necessary to insure that you receive everything to which you are entitled.